Sweet and Spicy Crock Pot Sweet Potato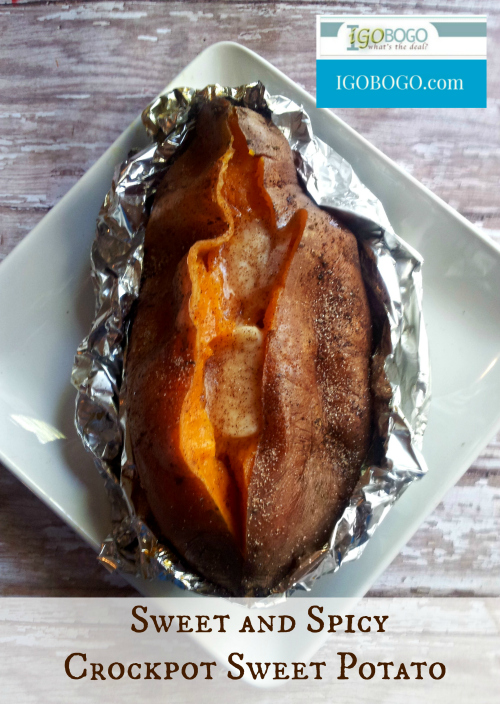 Did you know you could make amazing sweet potatoes in the crock pot?  Yes, you can, and you can also experiment with seasonings to create some delicious flavor combinations that will make the everyday, boring sweet potato a thing of deliciousness.  I wanted something sweet with a bit of bite to it so I came up with this tasty  I love that I can throw it in the crock pot after breakfast for a healthy and yummy lunch, or late afternoon to accompany dinner.
Ingredients:
Sweet potatoes
Cayenne pepper
Cinnamon
Kosher salt
Directions:
Wash sweet potatoes well with water.

Scrub potato dry with a paper towel.

Coat well with Olive Oil.

Lay Sweet Potato on a sheet of aluminum foil
Sprinkle generously with kosher salt, and cinnamon.

Sprinkle a lighter coating of cayenne pepper over skin of potato.
Wrap tightly in aluminum foil and place in crock pot.

Cook on low for 4-5 hours, this vary based on the size of your potato and how many you are       placing into the crock pot.
Remove potato with tongs, allow to cool until you can safely remove aluminum foil.
Slice potato down the center, add a pat of butter or two, and a light sprinkling of cayenne and cinnamon.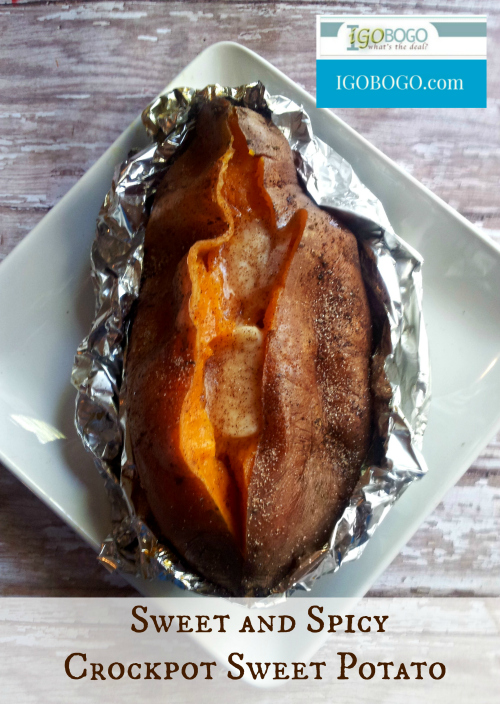 Try other seasonings in place of  Cinnamon and Cayenne to create unique variations like:
Chili powder, Cumin, and Lime juice.
Brown sugar and butter
Italian seasoning (or Basil, Thyme, and Rosemary)
Wrap potato in a piece or two of Bacon.
Drizzle potato with Maple syrup
Come up with your own flavors and let me know if you try it!