Homemade Pumpkin Pie Jars

These Pumpkin Pies in a Jar would make such a cute gift to take to neighbors or to enjoy as a delicious fall dessert.  They are so pretty!  These adorable jars are available on Amazon here.  You can also get the cookie cutters to make the leaf cutout at Amazon here.  Check out the recipe below:
Homemade Pumpkin Pie Jars Recipe
1 15 oz. can of canned pumpkin
1 14 oz. can of sweetened condensed milk
2 eggs
1 tsp. cinnamon
1 tsp. pumpkin pie spice
2 batches of pie crust (recipe and ingredients below)
small leaf cookie cutter (optional but oh so cute)
6-7 wide mouth 8oz. Jars
Directions –
Combine the canned pumpkin, sweetened condensed milk, eggs, cinnamon and pumpkin pie spice. Mix well and set aside.
Crust ingredients (make 2 batches – you may have some left over but it's better than not having enough).
**If you're not feeling that ambitious, simply buy 2 boxes of store bought pie crust (such as Pillsbury).
1 ½ C. flour
¼ C. milk
½ tsp. salt
½ C. vegetable oil
Mix all ingredients and roll out using flour and a rolling pin. You will want to cut the pieces to fit the jars. I actually used the lid ring to cut mine and then pieced them together in the jar. Very easy.
Fill each jar with Pumpkin Pie mixture almost to the top.
Use the leaf cookie cutter (again, optional) to cut out a leaf for each pie.
Bake at 425 degrees for 15 minutes and then turn the oven down to 350 and bake for another 30-35 minutes.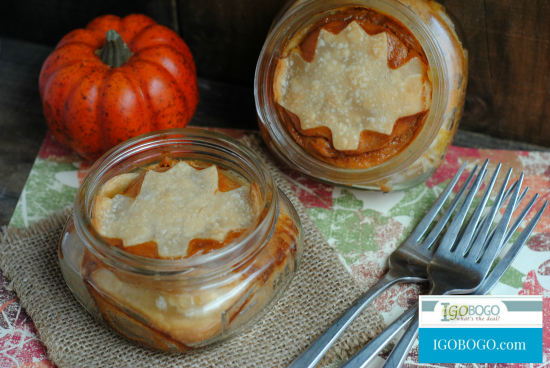 Enjoy.