Pumpkin Granola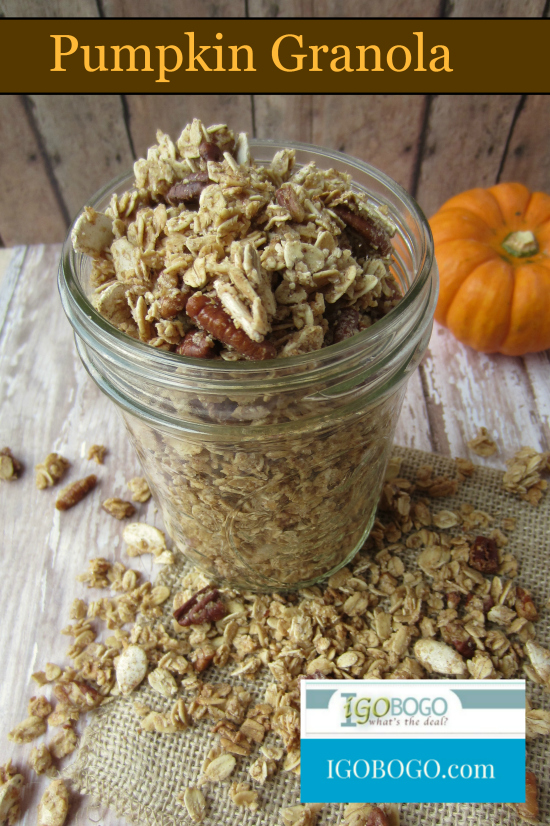 This pumpkin granola would make such a great breakfast for those cool fall mornings!  Granola is such a versatile and healthy snack.  Sprinkle some in your yogurt for breakfast or in milk.  You can leave out the pecans if you have allergies.
Ingredients:
3 cups Old Fashioned Oats
1 cup Pecans; Chopped
½ cup Pumpkin Seeds; roasted
½ cup Maple Syrup
1/3 cup Brown Sugar
½ tsp Cinnamon
½ tsp Ginger
½ tsp Nutmeg
¼ tsp Cloves
½ tsp Vanilla Extract
Preheat oven to 350 degrees.
In a large bowl, combine oats, pecans, pumpkin seeds, brown sugar, cinnamon, ginger, nutmeg and cloves. Stir well to incorporate ingredients. Add maple syrup and vanilla extract. Stir until entire mixture is wet and even.
Line a baking sheet with parchment paper. Pour mixture onto parchment and spread into a thin layer. Bake for 6 minutes. Lightly stir granola and return to oven for another 6-7 minutes, until slightly brown.
Remove from oven and let cool. Once cool, gently break into clusters. Store in an airtight container or jar. Enjoy!