How To Save Day-Old Cupcakes and Turn Them Into Truffles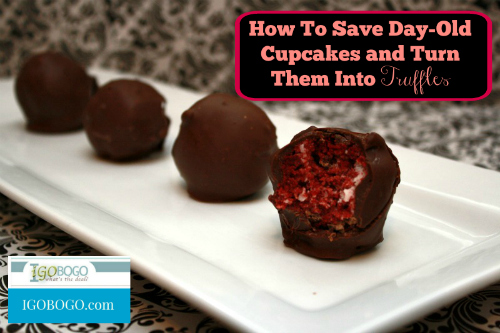 I had several red velvet cupcakes that were delicious, but had been sitting out all night so the frosting got a little crunchy. You know, not stale but not on the "wow" level anymore. So, I had to get creative. Creative + Yummy = Truffles! Yep, that's right. I made some red velvet truffles without much effort at all.
The cupcakes don't have to be moist – adding the frosting will make them perfect.
First, you'll need some cupcakes. My favorite red velvet cupcake recipe is from the Brown Eyed Baker, adapted from the Hummingbird Bakery Cook Book.
If your cupcakes are already frosted, you can simply dump them into the bowl and mush everything together. If they aren't frosted, you'll need to make an amazing cream cheese frosting.
To make cream cheese frosting:
1 stick butter, room temperature
8 oz cream cheese, room temperature
3 cups of powdered sugar
1 teaspoon vanilla extract
Cream together butter and cream cheese with electric mixer. This will take about 3 minutes. Add vanilla, mix. Slowly add powdered sugar. If you were frosting cupcakes, you would have to add more powdered sugar to stiffen it up – but because you're just mixing it in with the cupcakes, it's okay if it's not stiff.
Take the cupcakes and the frosting (2:1 ratio, cupcakes:frosting) and crumble them together in a bowl. Don't add too much frosting. Get it to a consistency where you can form the batter into small balls. If you need more frosting, add it. Roll into balls, then place on a plate or cookie sheet and freeze for an hour.
While the cake balls are freezing, melt 1 bag of chocolate chips in a small microwave-safe bowl. You want the bowl to be small, so the chocolate will cover the entire ball when dipped in.
Dip cake balls in chocolate, then set on wax paper to harden. Set them in the refrigerator or freezer to make the process go faster. If you're going to add sprinkles, do so as soon as they're dipped.
You now have truffles!
When the truffles are hardened, you can drizzle chocolate or caramel sauce over them. Top with crumbled Oreos.