Did you know that you can make your own DIY Microwave Popcorn in a paper bag at home for a fraction of the cost of the pre-packaged kind? Have you ever checked out the labels on the store bought kind? Well no more worrying about what is in those bags when you prepare your own at home. You will know exactly what you are putting in your child's tummy!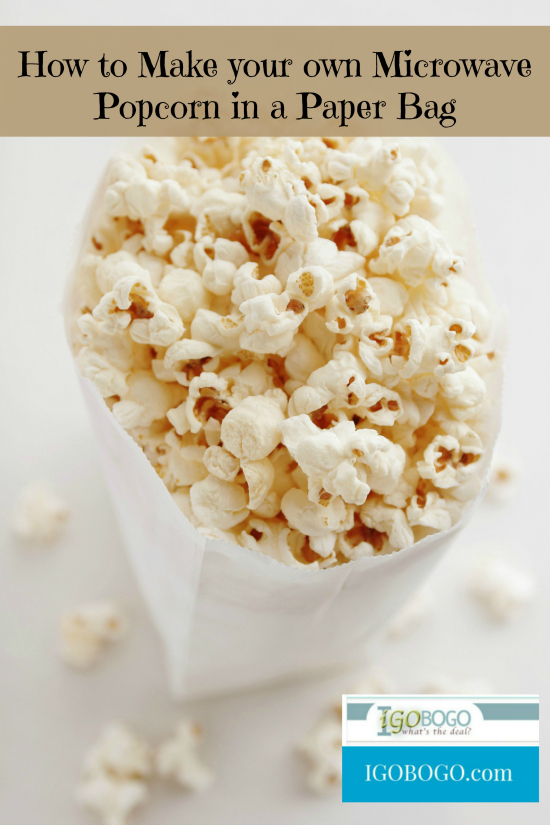 How to make your own Microwave Popcorn in a Paper Bag
You will need to check the packaging on the paper bag to make sure it is microwave safe. Just take a look at the label when you purchase them. With just a few ingredients your next movie night will not only be healthier but much less expensive!
DIY Microwave Popcorn in a Paper Bag Recipe
Ingredients:
1/4-1/2 cup uncooked popcorn kernels
1/4-1/2 teaspoon sea salt
1 tablespoon coconut oil
1 brown paper lunch bag or confectioners bag
Seasoning of choice
Directions:
If you're using coconut oil (any oil or butter will work) you will first want to melt it a bit. Place in a microwave safe glass bowl and warm it up for about 15 seconds until it becomes a liquid.
Pour your popcorn kernels into the paper bag and poor the oil, salt and seasoning over the top and shake just a bit.
Fold the open end of the bag 2x (do not clip or staple bag) and place in the microwave.
Cook on high power for 2/3 minutes watching closely. If you hear a few seconds pause in the popping stop immediately. All microwave ovens vary in wattage so it's really hard to say how long yours will take. Once you have made a batch or two you will know exactly how long it will take.
Making your own microwave popcorn at home is healthier for you and great on the pocket book! There are several toppings that work really well on popcorn and can vary greatly on taste. Here are a few to get you started…
Parmesan
Italian Seasoning
Salt and Vinegar (spray with vinegar after popping)
Ground Cumin
Chili Powder
Lemon Pepper
Nutritional Yeast Flakes (This is one of our favorites)
Taco Seasoning
What seasoning to you plan on trying first? Do you have any great toppings for microwave popcorn that you use at your house? Share in the comments below so we can all give it a try!