Fried Green Tomatoes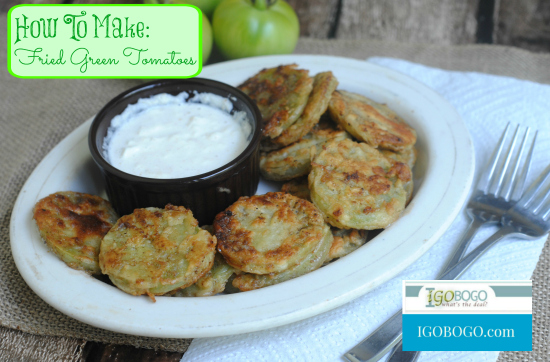 Ingredients:

 3-4 medium size green tomatoes, cut into 1/4" slices
2 eggs
½ C. milk
1 ½ C. flour
1 C. butter
Horseradish Sauce
Ingredients

¼ C. mayo
4 tbs. prepared horseradish + more to taste
Directions –
1. Crack the eggs and whisk in the ½ cup of milk and set aside.
2. Pour the 1 ½ cups of flour out onto a large plate or in a shallow bowl.
3. Salt and pepper the green tomato slices. Take one slice at a time and dip in the flour, coating both sides. Next, dip into the egg and milk mixture and then back into the flour.
Lay the coated slice on a large plate. Repeat this process with all the tomato slices laying them on the plate side by side (do not stack as they will stick).
4. Melt 4 tbs. of the butter in a large frying pan on medium-high heat. Once the butter is melted, lay the tomato slices in the pan and cook 4-5 minutes on both sides. They will turn golden brown – that is when to flip.
5. Add more butter to the pan as needed while cooking.
6. While the tomatoes are frying mix up the prepared horseradish and the mayo.
Serve immediately. Makes approximately 4-5 servings.