Homemade Taquitos with Guacamole Side
If you crave simple and spicy, you are sure to enjoy these easy to make taquitos. You can make your own taquitos in no time flat, and be enjoying the taste of Mexico right at your own table. This is a dish kids will embrace as well, so take a look below at how to make your own. These taquitos with guacamole side are sure to become a new household favorite.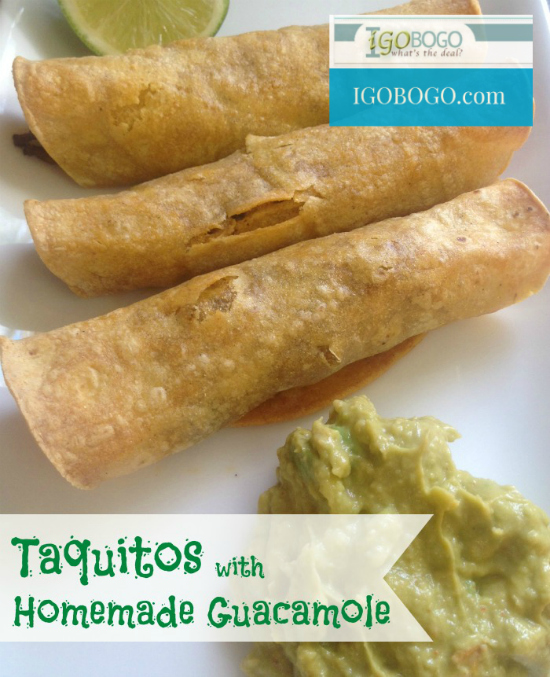 Taquitos
1 pound of ground beef (or shredded chicken)
1 packet of fajita, burrito, or taco seasoning
1 package of shredded cheese
½ cup of vegetable oil
1 teaspoon of garlic powder
½ white onion, chopped
6 inch corn soft shells
water
1. Begin by adding the onion and garlic power to a pan with a teaspoon of oil. Sautee the mixture until golden.  Set aside.
2. Brown the ground beef or chicken and drain away any grease. Add in the onion and garlic mixture.
3. Stir in the seasoning packet along with a tablespoon of water. Mix well.
4. Place the corn soft shells on a plate and cover them with a damp paper towel. Place them in the microwave for one minute. This will help make them soft and bendable.
5. In the middle of each shell, place a generous tablespoon of mixture as well as a sprinkling of cheese.

6. Roll the shell up tightly into a roll. Place on the cookie sheet so the seem side is down.
7. Brush vegetable oil over each shell. Place the taquitos in the oven at 400 degrees for 10-12 minutes. Enjoy!
Guacamole Side

2 ripe avocado , peeled and chopped
2 roma tomatoes, chopped
½ white onion, peeled and chopped
½ ripe lime
1 teaspoon of garlic powder
Salt and pepper to taste
1 teaspoon cilantro flakes
Directions:
Combine all of the ingredients into a bowl and mix thoroughly until a smooth paste forms. Enjoy with your taquitos as a dipping sauce or with corn chips.

Give these tasty taquitos and guacamole side a try. It is a fun way to spice up your dinner and try something new!