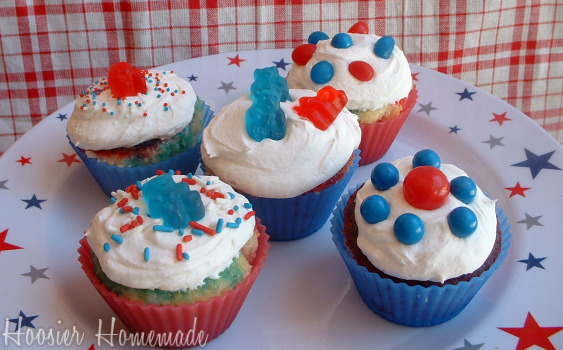 Thanks so much Holly for having me! I'm so excited to share some fun and festive 4th of July Cupcakes with you and your readers!
Hello, iGoBoGo fans! I'm Liz, the Hoosier Momma from Hoosier Homemade. I'm a SAHM of 3 teenage boys, that keep me running with their sports and school activities. I've been blogging a little over a year, I share lots of baked goods, Budget Friendly Meals, and decorating tips and tricks, all to help you "Make Your House a Home." You can also find me on Twitter and Facebook.
Fourth of July is one of my favorite holidays, I don't know what I like more, the festive hometown parade, the fireworks or all the yummy food!
These 4th of July Cupcakes are sure to be hit at any cookout! They are not only festive with the red and blue color added, but they are delicious too. By adding jello to the cupcake, you get vibrant color and flavor.
4th of July Cupcakes:
White Cupcakes, baked and cooled
1 small box each of red and blue jello, plus water
Marshmallow or Buttercream Frosting
Assorted red and blue candy
Sprinkles
Kids love candy, and by adding some fun Gummi Bears, Sixlets, Red Cherry Sours and Sprinkles, you can make any simple cupcake look fun and festive!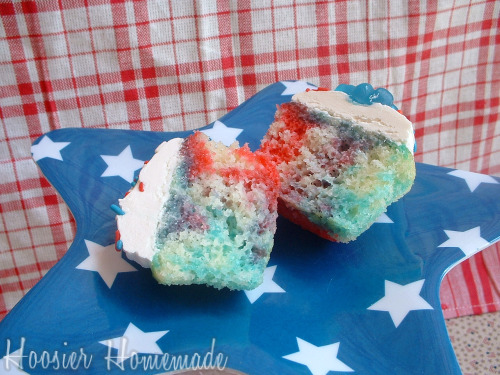 Do you have a special cupcake flavor that you like to make? You can join in our discussion in the Hoosier Homemade Blog Frog Community.
I'd love for you to visit me at Hoosier Homemade, where I host Cupcake Tuesday every week and share a fun, new cupcake creation. And my new blog, It's A Blog Party, where everyday is a different linky party.