Garlic Roasted Butternut Squash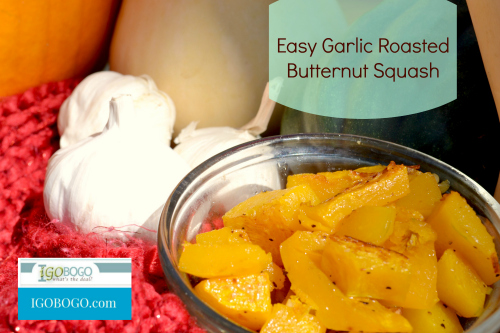 1 Medium Butternut Squash
2 TBS Vegetable Oil
2 Cloves Garlic, Minced.
Salt/Pepper to Taste
Preheat oven to 400°.  Line a baking sheet with aluminum foil for easy cleanup.
Peel squash and cut into 1" cubes. Pour oil into a plastic baggie, and mix in garlic, and salt/pepper.  Add squash to bag.  Seal and shake until evenly coated.  Pour onto prepared baking sheet and bake for 20 minutes, turning after 15 minutes.
Variations
Spiced Butternut Squash:  Omit garlic and add in ¼ tsp nutmeg, 1/8 tsp cloves, and ¼ tsp cinnamon.
Garlic Chili Roasted Squash:  Roast one Anaheim Chili pepper under broiler or on grill.  Peel off outer skin and dice.  Add to recipe above before baking.
Southwestern Roasted Squash:  Prepare recipe as stated above, using 4 tbs oil.  Mix in 1 diced green bell pepper, 1 diced red bell pepper, and 1 medium diced onion.  Bake as directed above.