Creamy Avocado Chicken Salad
This creamy avocado chicken salad is perfect for whipping up ahead of time and perfect for those hot summer days. Cool and refreshing, it is a great way to eat healthy while still enjoying tons of flavor. Take a look below at how to whip up a batch of your own. It is sure to become a household favorite.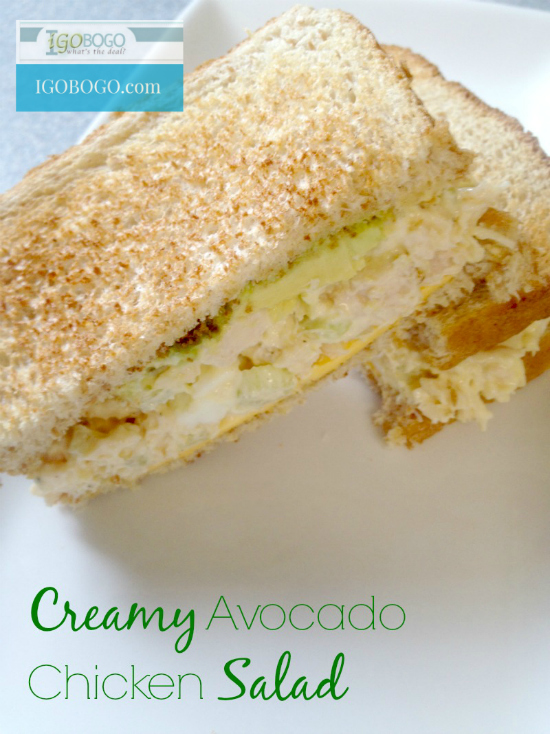 Creamy Avocado Chicken Salad
Here are the ingredients you will need:
2 cans of chicken breast in water OR 1 pound of baked chicken, shredded
½ cup of low fat mayonnaise
2 medium pickles, chopped fine
4-5 celery stalks, chopped fine
1 avocado, peeled
1 teaspoon of seasoning salt
Salt and pepper to taste
Directions:
1. Begin by breaking up your chicken into shreds. If you are using canned chicken, be sure to drain it well first.
2. Add the mayonnaise and stir well.
3. Add your chopped pickles and celery, continuing to stir well as you do.
4. Taste. Add the seasoning salt and salt and pepper as needed or as your tastes allow.
5. Cut ½ of the avocado into cubes. Stir in gently to the mixture so the cubes remain chunky.
6. Reserve the second half of the avocado to slice and top the sandwich with. We use it in place of a slice of cheese to get tons of flavor and some healthy fats.
To serve your creamy avocado chicken salad, toast two pieces of bread and top them with the mixture. Add a slice of the reserved avocado. Cut in half and enjoy!
As you can see, this is an easy and inexpensive lunch option. Prepare it ahead of time for a quick lunch throughout the week.
Give this recipe a try and see how tasty chicken and avocado can be together!