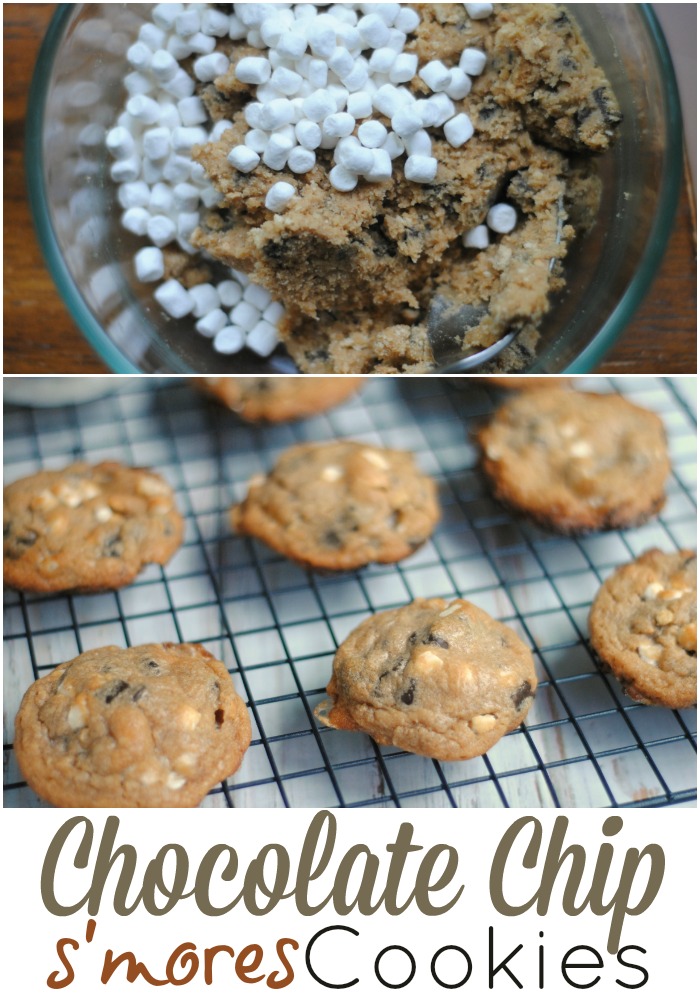 S'mores are such a fun treat to have during a camp out or a camping trip.  The ooey gooey goodness of marshmallows mixed with chocolate and graham crackers is hard to beat!  However, if you are looking for a recipe that will give you the taste of s'mores but bring it up a notch you WILL definitely want to give these a try.  Chocolate Chip S'Mores Cookies are simple to make but, oh, so delicious!
Chocolate Chips S'Mores Recipe
Author:
These easy Chocolate Chip S'Mores Cookies are a unique twist on an old fashioned favorite treat.
Ingredients
1 package of store bought chocolate chip cookie dough, any brand (located in the dairy section)
1/2 C. Kraft Mallow Bits
1/2 C. graham cracker crumbs (about 4-5 graham cracker squares)
Instructions
#1. Open the cookie dough, discard the wrapper and allow the dough to sit until room temperature.
#2. Preheat the oven to 350 degrees and line a baking sheet with parchment paper or foil for easy clean-up.
#3. Place the room temperature cookie dough into a medium size bowl and using a spoon, break it up. Slowly add in the 1/2 cup of graham cracker crumbs and 1/2 cup of Kraft Mallow Bits.
#4. Scoop the dough into 1-2″ chunks and use your hands to roll into balls. Place the cookies about 2-3″ inches a part on the baking sheet.
#5. Bake 8-10 minutes or until golden brown.